[
update 4.3.2019
] To help with our financial troubles, I will sell these originals for 100EUR each + shipping. I will ship anywhere as long as you pay for the shipping. You will have to deal with customs yourself. A page is 17,5 by 18,5 cm (WxH) after removing from the sketchbook. The drawing inside frames (starting with day 3) are approx. 12,5 by 13,5 cm (WxH). Let me know your interest through the form in the
contact page
.
I will put all my inktober drawings in this post. Since I'm on a No Man's Sky kick, they will be themed after the game. I'll do sketches in erasable colour pencil in a suitable colour and ink with a bamboo Zenzdi fountain pen and ink that my hubby gifted me.
The prompts for each day come from the official creator of the inktober idea (one ink drawing a day in October), @JakeParker.
Click images for bigger size.
Follow me on Twitter for updates.
Day 1: poisonous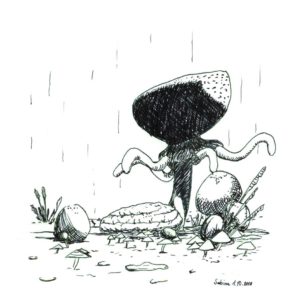 A small collection of flora that exists on the "toxic" biome of No Man's Sky planet. Sketch done in light green colour pencil.
Day 2: tranquil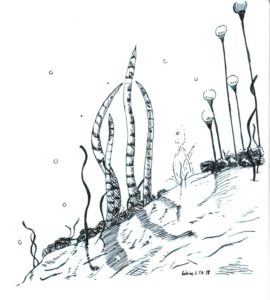 An underwater view. Sketched in light blue. I didn't shade the water out of fear of messing up. I also positioned the drawing too close to the right edge.
Day 3: roasted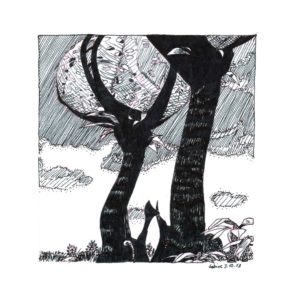 Some flora from a "hot" biome. Sketch in red. This time, I drew quite a broad frame around the page before I started and I really like how it looks. I hatched the clouds, but I think you could mistake them for the sky.
Day 4: spell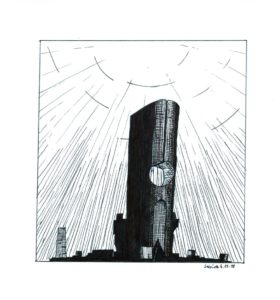 No Man's Sky is a sci-fi game, so there's no "magic". However, some things in it are magical, like a monolith – great alien structures that reveal some history of the species as well as teaching you one Atlas word – launch some sort of firework into the sky when you are done with it.
Day 5: chicken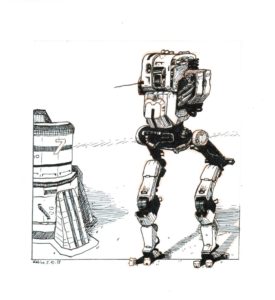 I chose one of the really large sentinel walkers, rather then an animal that looks like a chicken. These robots are quite intimidating in the game. I misjudged the proportion a bit but then decided to include its feet anyway, popping out of the frame. They are orange, so the sketch is also orange.
Day 6: drooling
These monstrosities definitely drool. I like how the flower is just in front of it. "For me?!" XD
Day 7: exhausted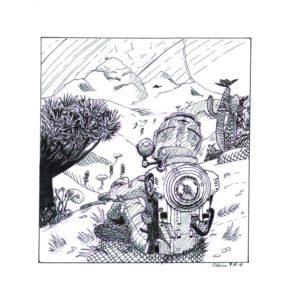 Thanks to the latest update, we can sit down and have a rest.
Day 8: star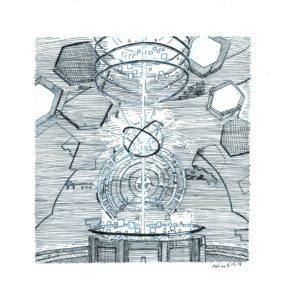 The interior of the space anomaly, which looks like they are simulating a star. Had some issues with the top circles.
Day 9: precious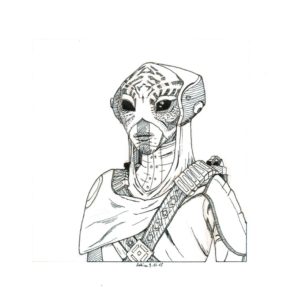 Artemis. Something less crowded, since I had a busy day.
Day 10: flowing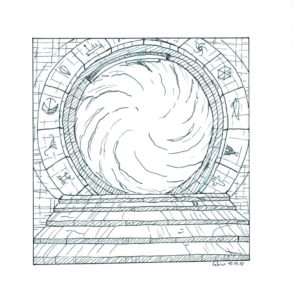 The closest thing to flowing water – a portal.
Day 11: cruel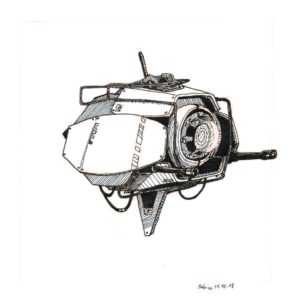 Sentinel drones, always interrupting.
Day 12: whale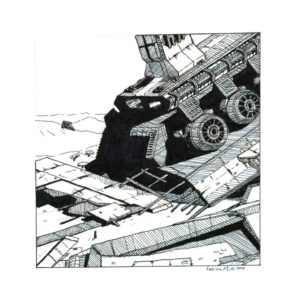 A crashed freighter. They're still impressive.
Day 13: guarded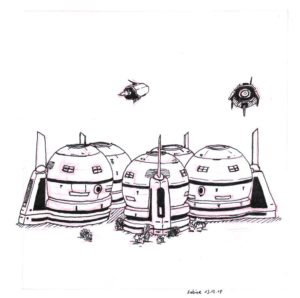 A depot of valuable resources.
Day 14: clock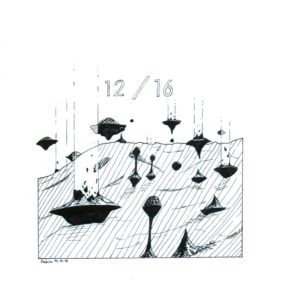 A countdown to 16.
Day 15: weak
Day 16: angular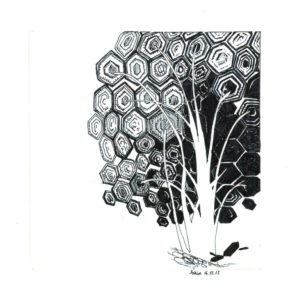 Glass trees on a glass world.
Day 17: swollen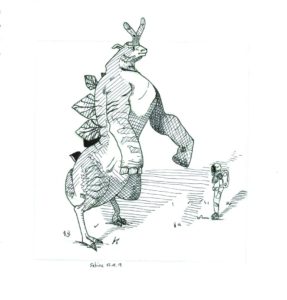 Absolute unit. Friendly.
Day 18: bottle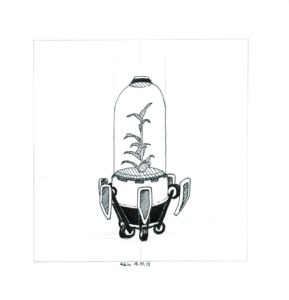 Plant in a bottle. Could it survive outside?
Day 19: scorched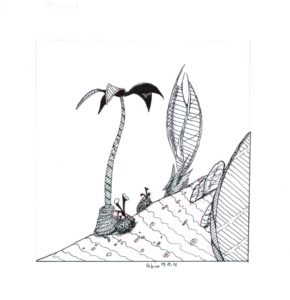 More fauna from a scorched biome.
Day 20: breakable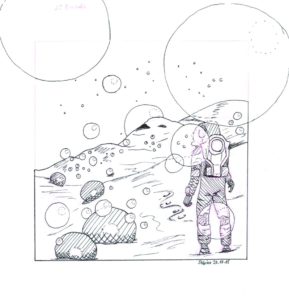 Bubbles everywhere!
Day 21: drain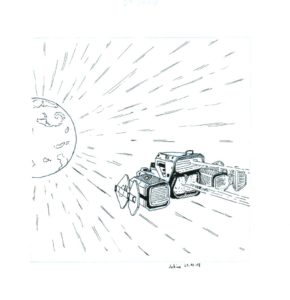 Using the pulse drive to get to another planet.
Day 22: expensive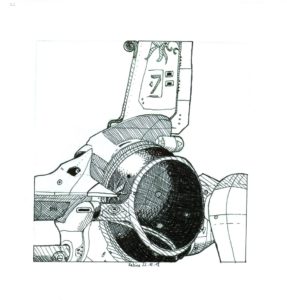 An exotic ship, which would cost a lot.
Day 23: muddy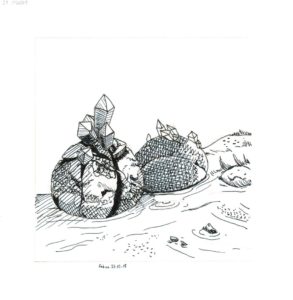 Rocks sitting in mud. There isn't any flowing water in the game though.
Day 24: chop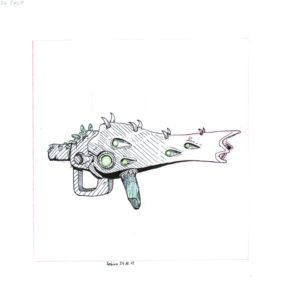 My multi-tool at the time. It's (mostly) for mining and chopping trees.
Day 25: prickly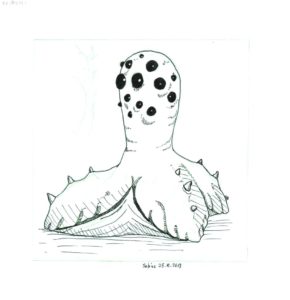 A very large, but harmless alien.
Day 26: stretch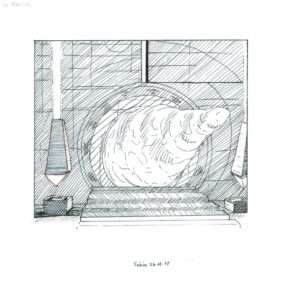 A portal opening. Reminds me of something…
Day 27: thunder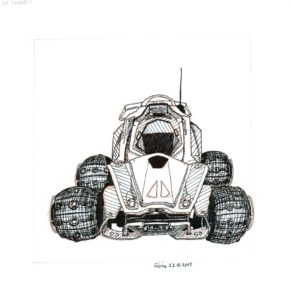 The mid-range exploration vehicle.
Day 28: gift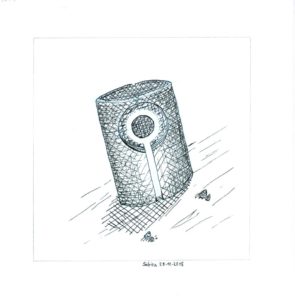 A knowledge stone. It will teach you one word.
Day 29: double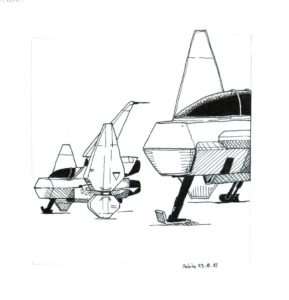 My ship and a similar one landed side by side.
Day 30: jolt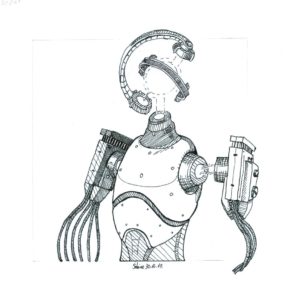 Our friend NULL. They look different to other travellers.
Day 31: slice
I have not yet finished this one. :/